---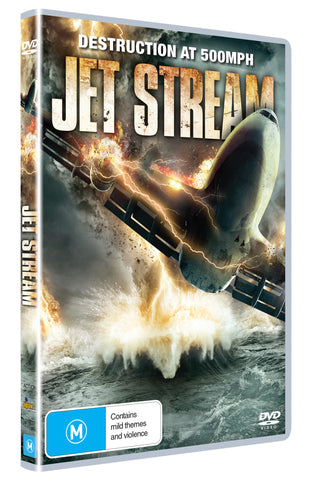 Jet Stream
---
In a small town in Nebraska the wind begins to pick up. Suddenly from the east a giant funnel cloud moves towards the town. Like a giant nozzle from a vacuum cleaner, it begins to suck everything in the town away. Within a few minutes the town is gone. Nothing left but the foundations. Meanwhile flying across the Pacific, a 767 Cargo plane is hit by a sudden wall of turbulence that brutally shakes the plane. On the altimeter it shows the plane is falling. The massive funnel of the jet stream is pulling it straight down into the water where the plane impacts and disintegrates.
On Board a C-17 plane specially outfitted for weather research called WEATHER-1, a young attractive scientist named Debbie Boe watches her instruments. As Weather-1 travels through a powerful Jet Stream, the planes massive magnetic generator attempts to actually move the Jet Stream.
In Spokane, Washington, Steve "Sunny" Simpson is the KLTY weatherman. Steve is really Doctor Steve Simpson. Over the last 2 years he has been following a series of events: plane crashes, towns wiped out and most recently a cargo plane that just disappeared. His research is showing a new phenomena; massive jet streams that usually are only seen near the upper atmosphere have started to lower all the way down to ground level with wind forces of nearly 500 miles an hour. When Steve plays the new disasters out on his computer simulation, it shows that within the next 5 days the Jet Streams from around the planet will converge to create a massive single Jet Stream. Known as a Super Stream, it is hundreds of miles wide moving at over 500 miles per hour. Steve sees the end of the planet as we know it and feels helpless stop it.
They have one chance to change the course of the jet streams and stop them before they converge & destroy the planet.
---
More from this collection